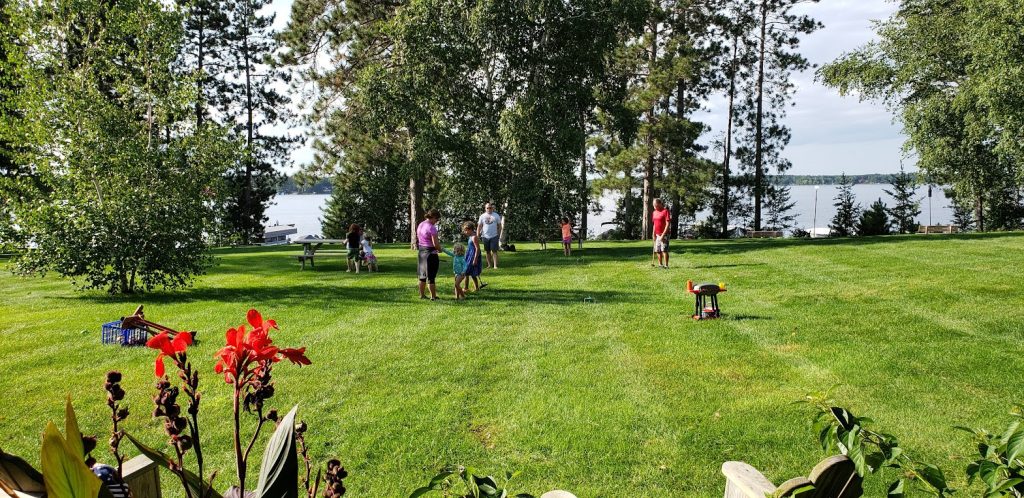 Upper Hay Lake Association P.O. Box 769 Pequot Lakes, Minnesota 56472
Summer Newsletter July 2023 Page 1

Greetings from Your President!
GREETINGS FROM YOUR PRESIDENT
Upper Hay Lake held its annual Independence Day boat parade on Sunday, July 2nd, at 3:00 p.m. Thanks to all of you who participated. The patriotic decorations were enjoyed by all.
I am pleased to announce that we have two new members on the Upper Hay Lake Association Board. Maddie Nelson replaced Judy Murphy. To fill out the board, Dan Obermiller agreed to a one-year term. We look forward to their fresh contributions to our association. The election of board officers for the next year was held at the board meeting on June 15th with the following individuals nominated and unanimously approved:
President – Brad Schultz

Vice President – Neil Beaverson

Secretary – Brad Kaus

Treasurer – Ken Meyer
With the concerns over the number of fish houses on Upper Hay Lake this past winter, the following actions will be taken by the board to prepare for discussion with the DNR about fish count limits on our lake.
Jack Woodruff will research and provide the fish count limit on Upper Hay and contrast this to the area.

Jack will also provide a count of fish houses on the lake during the winter months (January and February) of 2024.
The June 15th Annual Meeting and Burger night at the American Legion in Pequot Lakes was well attended. The meeting included a presentation on the National Loon Center which is being developed in Crosslake. Mike Pluimer presented information on loon habits and habitat. He also answered questions about loons in this region. Neil Beaverson presented information on the shoreline impacts and ideas to maintain lower phosphorus levels in Upper Hay Lake.
Moving on to water sampling, Greg Murphy has volunteered again to collect samples of water for the Zebra mussel veligers and Spiny Water-flea. Neil Beaverson has volunteered again to sample our lake three times this summer for Starry Stonewort. The effort of volunteers for our lake is much appreciated.
On June 26th I took Bethany Chaplin and her crew from the Crow Wing County Soil and Water Department on my pontoon so they could collect water samples for phosphorus testing.
As a final note, please remind your guests to keep their distance from the shoreline. It is important that we all do our part in protecting the shoreline of Upper Hay Lake.
Enjoy your summer on Upper Hay Lake!
—Brad Schultz
#### #### ####
UHLA TO HOST A BURGER NIGHT ON AUGUST 3RD AT THE AMERICAN LEGION IN PEQUOT LAKES
UHLA will host a Burger Night on August 3, 2023 at the American Legion in Pequot Lakes at 5:00 P.M. Registration begins at 4:30 P.M. Food orders can also be made at that time. UHLA will provide complimentary hamburger meals. It will be an excellent opportunity to share concerns and socialize with other members on the lake. A brief business meeting will follow the meal. Plan on attending this event because it replaces the picnic again this year.
—Brad Schultz
#### #### ####
BEACH CAPTAINS NOW AVAILABLE
A Beach Captain is the Go-To person who welcomes new neighbors, conveys concerns to the Board, and notifies their neighbors of pertinent information regarding the lake. These members have volunteered to serve as Beach Captains for the Upper Hay Lake Association:
South East side = Cindy Rieck (218-568-8272)
South West side = Greg Murphy (218-330-7980)
West side = Neil Beaverson (651-429-2023)
East side = Volunteer Needed
North side = Jack Woodruff (612-802-2024)
CHAT WITH OUR BEACH CAPTAINS AT THE BURGER NIGHT ON AUGUST 3RD!
LIGHT POLLUTION
We have had some discussion with association members regarding light pollution around the lake, which is the light that extends past its usage and interferes with non-owners of that light. In the past I have had many people complain to me about their neighbor's garage or cabin outside lights that shine all night and light up their home so they don't even need to use a nightlight. They find this very invasive, and it can manifest into problems with their neighbors. There also have been many complaints about lights from across the lake shining into bedroom windows, or just shining at them as they are sitting on their dock trying to enjoy the serenity and magnitude of the night sky. Light pollution impacts everyone, including animals and the environment they depend on to survive. It was not that long ago that we all could walk outside, whether it was on the dock or just on your land, look up and gaze in amazement at the beauty of the night sky. Now it is like living in the city!
Good Outdoor Lighting Should:
Optimize visibility at night for what we want lit

Minimize energy consumption

Minimize impact on the environment and ourselves

Minimize glare

Minimize light trespass
Please be kind and either use motion sensor lights or lights on a timer.
–Reprinted with permission from Judy Murphy
#### #### ####
MN DNR LAKE HEALH ASSESSMENT FOR UPPER HAY LAKE
Lake Health Component Scores
Lake Health Score: 60 / Scale 0-100/ Grade: C+
Water Quality Score: 37
Water Quality Score Major Watershed Mean: 52; Min/Max: 16/77
Biology Score: 63
Biology Score Major Watershed Mean: 56; Min/Max: 32/81
Hydrology Score: 77
Hydrology Score Major Watershed Mean: 94; Min/Max: 74/100
Component Input Status
Each component score is created by combining data inputs. Some of these data inputs have a target value labeled a 'goal' or 'threshold'. If an input value is:
"Below (Goal or Threshold)"

, the condition for the lake has degraded to the point that it may not support one or more desired outcomes (e.g., water clarity quality, natural diversity of plants and animals).

"At or Above (Goal or Threshold)"

, the condition for the lake currently meets or exceeds the minimum criteria to support these desired outcomes.
Water Quality
Phosphorus: At or Above Goal
Water Clarity: At or Above Goal
Biology
Fish Community Quality: At or Above Threshold
Lake Plant Community Quality: At or Above Threshold
Of the 166 lakes evaluated in Crow Wing County, Upper Hay Lake is in the bottom third. Lowest scoring in the county is a health score of 50.

A major contributor to low water quality is phosphorus.

A major source of phosphorus is "runoff" from properties adjacent to the lake.
If we choose to prevent further degradation and possibly improve water quality, we need to reduce runoff from our lake fronts into Upper Hay Lake. The least expensive solution is increasing deep rooted vegetation on lake fronts. We need to increase "Roots in the Ground."
SCORE YOUR SHORE QUICK GUIDE:
https://files.dnr.state.mn.us/assistance/backyard/shorelandmgmt/scoreyourshore/sys_quickguide.pdf
—Neil Beaverson
#### ####
UPPER HAY LAKE ASSOCIATION BOARD OF DIRECTORS 2023-2024
NAME:
LAKE & HOME ADDRESS:
PHONE:
EMAIL:
TERM ENDS:

Beaverson, Neil

Vice President

33904 Oak Dr.

417 Bear Ave. S.

Vadnais Heights, MN 55127

651-429-6672

nmbeaverson@comcast.net

2026

Kaus, Bradley

Secretary

4649 County Rd. 145

612-309-3584 (cell)

bgkaus@gmail.com

2025

Larson, Whitey

33061 W. Shady Beach Lane

218-568-5831

whiteylar@me.com

2025

Meyer, Ken

Treasurer

4345 Acorn Lane

218-568-5414

218-820-7683 (cell)

kenmeyer@tds.net

2024

Nelson, Maddie

33127 S. Upper Hay Drive

218-820-9461 (cell)

maddie@lgkwpro.com

2026

Obermiller, Dan

33113 Osprey Circle

763-355-7999 (cell)

dano.obermiller@gmail.com

2024

Schultz, Brad

President

33143 Osprey Circle

952-393-1758 (cell)

bvschultz55@gmail.com

2026

Steen, Claire

33161 Osprey Circle

29 Kingwood Street

Brainerd, MN 56401

218-829-3757

218-330-7059 (cell)

Claire.steen@charter.net

2024

Woodruff, Jack

4861 Popple Trail

612-802-3832

woodruffgarden17@yahoo.com

2025
Note: Unless listed otherwise, all addresses are Pequot Lakes, MN 56472